Mentorship Guest Lectures
ROYAL CANIN continuous dog and cat nutrition lecture and mentorship sessions: these sessions have been consistently held through a signed collaboration and partnership with ROYAL CANIN from January 2020 to the current period both physically and virtually. The sessions were initially held with the 4th year veterinary class every Wednesday afternoon and continued later with the same class in 5th year physically. The main Mentor and Guest Lecturer has been Dr. Jeanne Mwakugu who has occasionally been accompanied by Duy-Kim and other staff of the company.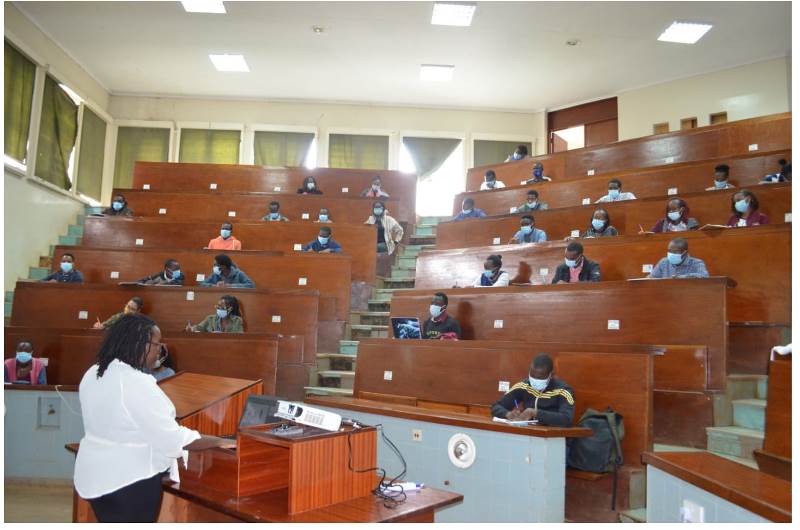 Dr. Jeanne Mwakugu of Royal Canin giving an Guest Lecture and Mentorship
University of Nairobi Mentorship Programmes
Mentorship and Counseling programme in the college coordinated by Assistant Dean of Students. There is a Calender of Events for the semester, which is also currently running online due to COVID-19 pandemic. The students can get in touch with the Assistant Dean of Students through mail.hrabera@gmail.com  and 0721850452.
There is also peer mentorship programme organized through NUASA. Support for this can be accessed through contacting dickensadigo99@gmail.com and 0790465626.
Talent Development and Enhancement
Talent development and enhancement is done through facilitation by the College Assistant Dean of Students Hellen Rabera Omwenga in liaison with the Dean of Students of the University of Nairobi. She can be reached through

mail.hrabera@gmail.com  and 0721850452.
Contacts for the different student services